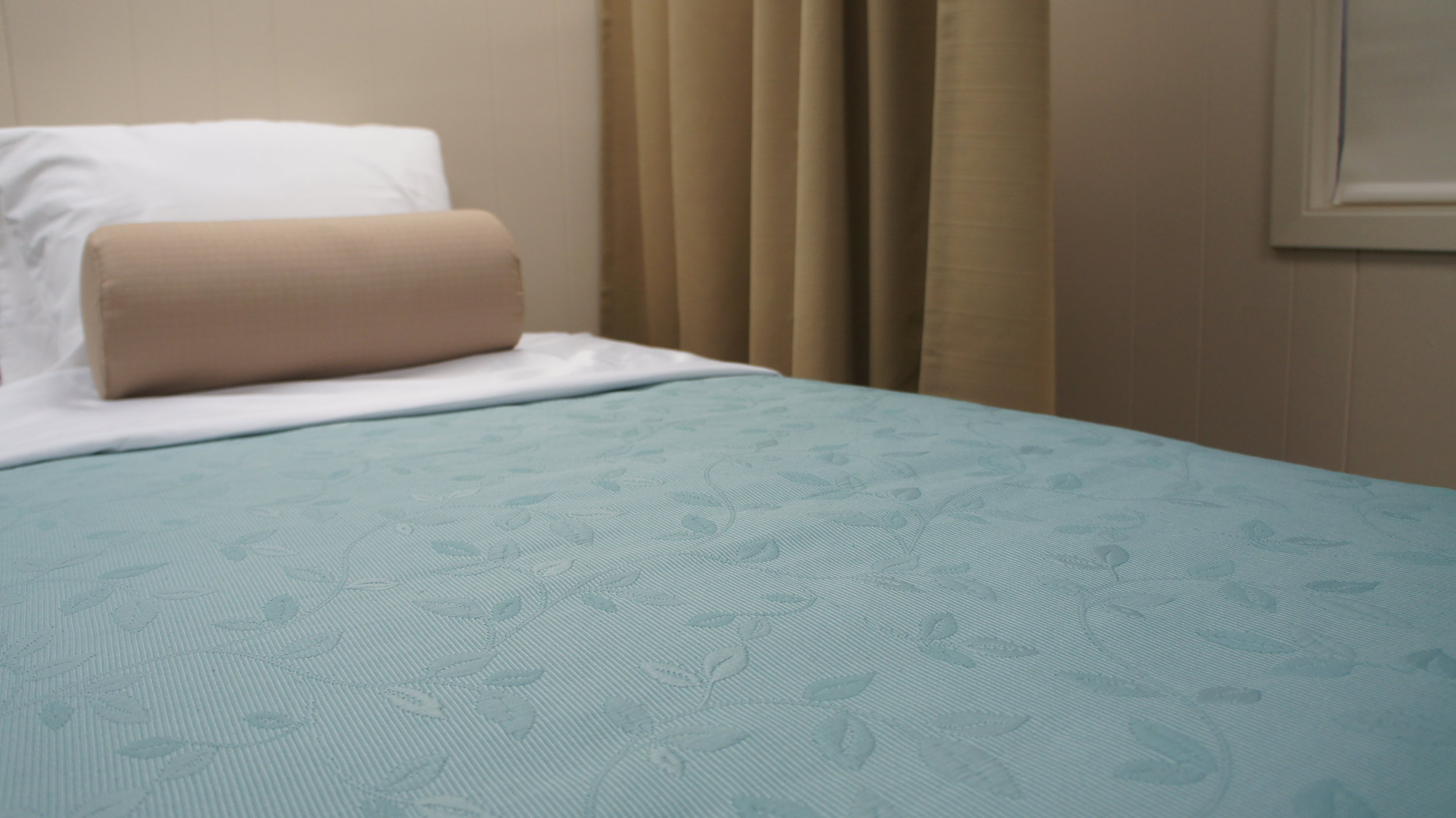 Pattern: Arbor
Designed with our customers in mind, this fabric boasts a modern yet understated simplicity. Produced and stocked in ten incredible colors for immediate availability, this 100% polyester, 110" wide good pairs a classic architectural look with incredibly durable construction. Our colors were chosen to provide a suitable match for any room design and color palette.
Pattern: Ledbetter
Classically consistent, this pattern has been one of Quiltcraft's best performing and most popular selections for nearly a decade. Recently recolored to compliment additional collections, this pattern remains surprisingly fresh. Available as a 110" wide good, NFPA 701 compliant and impeccably durable with 100% polyester construction, its versatility is unmatched.
Pattern: Wisteria
The culmination of aesthetic and operational ideals, this pattern ensures fulfillment of even the most particular requirements. Stocked in ten colors for immediate availability, these 110" wide, 65% cotton goods blend comfort, design and function seamlessly. Colors were intentionally developed to coordinate with both recent and long established industry cubicle and window treatment selections.
VERSATILE CUBICLE & DRAPERY FABRICS
Pattern: Winchester
A timeless classic, this memorable selection has served the industry for decades. While preserving successes of the past, we have improved upon current offerings with additional color options affording greater flexibility and opportunities for use. The longevity of this pattern is attributable to its simple yet stylish construction, ensuring its continued use for years to come.
Width: 72"
Content: 100% Polyester
NFPA 701
Pattern: Chancellor
Quiltcraft's foray into the Healthcare segment led to the development of this pattern noting the success of its simplicity and versatility. Available for use with bed, cubicle and window coverings, this textured selection meets a wide array of requirements while providing tactile interest and pattern depth with minimal interruption. Intentionally colored to coordinate with industry leading patterns, this versatile coordinate is a viable selection in every room's design scheme.
Width: 72"
Content: 100% Polyester
NFPA 701
Pattern: Noble
A continuation of resourcefulness, this non directional pattern lends itself to a myriad of uses. From seamless bed covering and cubicles to bed skirts and pillows, this domestically sourced fabric can be used in countless venues. Designed to both efficiently replace existing items while matching current schemes, and afford new uses with the development of additional color tones, Noble's color selection is yet another advantage and improvement over current industry standards.
Width: 72"
Content: 100% Polyester
NFPA 701
ECONOMICAL BLACKOUT LINING
Pattern: 2 Pass Blackout
Foam coated lining used to prevent light transparency, minimize sound transference and maximize room insulation. One side remains unfinished to ensure lowest possible cost, and requires these goods be used as a lining only, never as a standalone fabric.
Width: 54"/110"
Content: 70% Polyester/ 30% Cotton
NFPA 701
Pattern: 3 Pass Blackout
Treated with room darkening acrylic lining on one side and finished colored cloth on the other, this pattern is offered in four color combinations and suitable for standalone use.
Width: 54"/110"
Content: 70% Polyester/ 30% Cotton
NFPA 701
Pattern: Delicaline
Economical, translucent lining providing stability to treatments where light fastness is not required.
Width: 54"
Content: 70% Polyester/ 30% Cotton
NFPA 701
Pattern: Duraline
Our most durable translucent offering increases the longevity of any treatment through the use of 100% polyester construction.
Width: 54"
Content: 100% Polyester
NFPA 701
Pattern: Densaline
Interlining used for additional improvement of noise absorption, room insulation or treatment shape (fullness and body).
Width: 54"
Content: 100% Polyester
NFPA 701